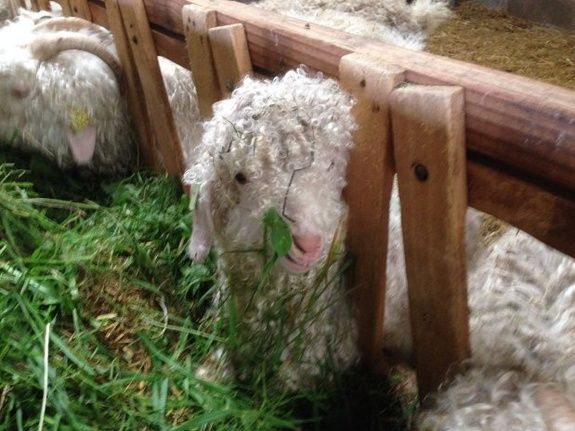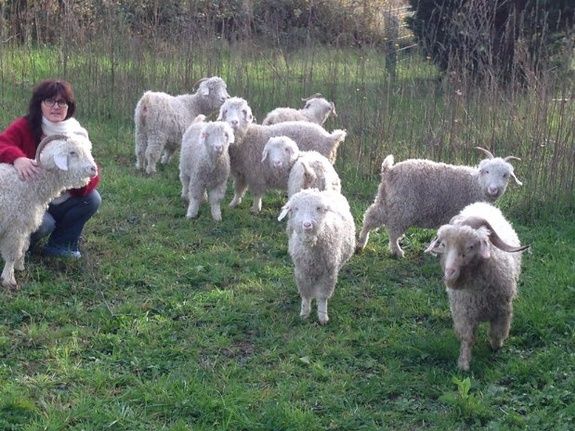 Mohair from Chambord
Mohair goats breeding farm, Mohair wool production
We are breeding a little flock of angora goats. These little white goats with curly hair have a beautiful wool fleece that we shear off twice a year (in february and august) to transform it to soft mohair wool.
Our goal is to stay a small breeding farm with 30 to 40 goats to keep our craft work. Each goat has a name, we know take care of each of them.
We sort each wool fleece by hand to take off the dirt, straw and hay. Then we categorize the fleeces by wool fineness range to make lots. We send the lots to a cooperative in Castres called SICAMOHAIR that will transform the fleeces with different french manufacturers.
Working with SICAMOHAIR allows us to get products with « Mohair des fermes de France » label.
This label is very important because it guarantees that our mohair wool has not been mixed with imported mohair whose quality is not the same and is not in our quality chart standards. The only thing that is not done in France is the spinning, it is done in Italy with a strict follow-up so we can use our label.
By passion, Frederique keeps a few kilos of raw wool. She will take care of the complete transformation herself: the wool sorting, the cleaning, the carding, the spinning, the vegetable dying, the weaving and finally the knitting and the crochet.
In her boutique, Frederique will show you the products she has made with the goats will have seen and touched…!
Mohair wool is an excellent quality product. Its softness, lightness and its authenticity make it a product everyone likes!
In Frederique's shop you will find socks, gloves, mittens, beanies, scarves, sweaters… most of them are handmade.
You can book an appointment, Frederique will make you visit her goats breeding farm and her boutique and will explain everything about her goats and Mohair.
Call 02 54 87 05 07 to book a visit, 5€ per person, free if purchase.
More infos about Mohair on our blog

Spoken languages


Payment methods

Phone: +33 2 54 87 05 07
Cell phone: 0681851233
Address:
8 Route de la Maugerie
41220 THOURY
FRANCE
Maugerie Farm
Address: 8 Route de la Maugerie 41220 THOURY FRANCE